For vacation this year, we decided to do something different. Way different from our normal quiet beach trip.
We went to Orlando, FL. It was my wife and I, our three kids (14, 10, 6), my in-laws, and sister-in-law. My in-laws rented a house that we all were very comfortable in.
I have two beautiful daughters and one son. My son Jacob is currently six years old. He has level three autism and is considered non-verbal. Non-verbal does not necessary mean zero speech. You can read more about this in my post about being nonverbal. In short, my son can say words, but does not typically use them to communicate.
This post isn't about trying to explain Autism. It's not about trying to educate others about Autism either.
My primary goal is to help parents of children with special needs to know what to expect when visiting Discovery Cove by sharing our experience. I look for posts like this when trying to decide whether or not visiting a particular place will be a fun experience for our whole family or not. So, I'm trying to pay it forward. You can also read my post about our great visit to SeaWorld.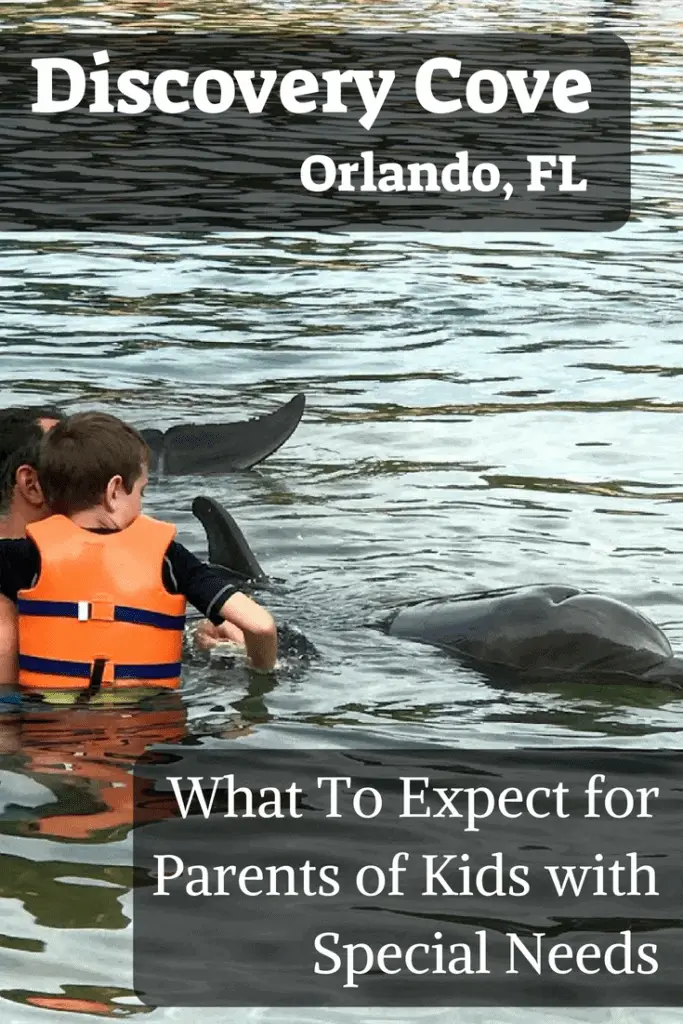 What's the Verdict?
I won't keep you in suspense for the whole post. We all had a great time! Very few accommodations needed to be made at Discovery Cove and the staff was very friendly and supportive.
Here's how our day went and the adventures we did and didn't do. Hope you find it helpful when planning your trip.
Starting Our Day at Discovery Cove
We've had our day and activities booked for months. We decided to be there when they opened so we could get an early time for the dolphin encounter my kids, sister-in-law, and I were going to do. We were not the only ones who had the idea of being there when they opened. 🙂
We had to wait in line for a bit before it was our turn to check-in. Everyone is provided with a lanyard to wear around your neck that has your photo on it. This was our first ut-oh moment. Jacob will not wear anything around his neck, wrists, or ankles. My wife and I took turns wearing Jacob's.
When we started walking the path into the attraction, one staff member check our badges and asked if Jacob would wear his. We explain about him having autism and that he wouldn't and that was NOT AN ISSUE. It was never mentioned by anyone again. This was a huge relief. This has been an issue at other parks in the past.
The first thing we did was eat breakfast which was included in admission. Jacob does not eat in the morning and our area wasn't crowded so he was playing by the table. Turned out to be a small puddle there. He thought jumping in it was a ton of fun which was fine. Then he decided to lay down in the puddle. Well he didn't have his swimsuit on yet, but no big deal. All was fine up to this point.
A Comedy of Errors
The next 45 minutes was a struggle and it was no one's fault but my own. I share this because sometimes you just have to laugh at yourself and as an example of not letting morning setbacks ruin your whole day.
I finished eating and grabbed Jacob's swim diaper and swim shorts and shirt and headed out to get him ready. Our dolphin experience was in 45 minutes. My wife and everyone else were just a minute behind me. I asked the first worker I saw where the changing rooms were and he pointed to a group of people headed across the beach and said it is in that direction.
Now the worker was correct, however, I failed to ask the right question. I should of said "Where is the changing area nearest the dolphin experience?" That would have had a big impact on the next 40 minutes.
Jacob and I headed across the beach area to the changing rooms. We went inside the men's room and I changed Jacob into his swim attire. When we came out I got Jacob a wetsuit vest and myself a full wetsuit with short sleeves and shorts. I put Jacob's on first and headed to get a free locker. Jacob started pulling me to the water, but I eventually talked him into going to the lockers.
The attendant gave us one and politely informed me that I had put Jacob's vest on backward. Zipper goes on the front. Good tip to know. Next I put on my wetsuit. It took a lot of squirming and pulling, but I finally got it on. We put our shoes and other stuff in the locker and walked back by the wetsuit area. As we did the attendant said "oh…sir" while looking at my suit. I asked was it too small? Sure felt tight to me. He said "no, but it is on backwards." He gave me a high-five, cause what else was he going to do. At this point I'm still figuring my wife is in the women's dressing room next to where we were standing, so we go back to the lockers, Jacob is being awesome, and I wiggle myself back out of the wetsuit.
At this point my wife shows up and lets me know we are in the wrong place. We hurry over to the correct spot. My wife, who is much smarter than I am, found out that until 11:00 AM one of the locker areas is reserved for special needs guests. My wife suggested I get a a vest instead and I didn't want to fight that suit again so I swap it out and put on the vest. I then put on the special sunscreen on Jacob and then myself. I'm sweating pretty good at this point and once done I apparently look like Casper the ghost. My wife tells me I need to rub it in and I "politely" said it won't rub in. The third attendant to see me do something dumb said to my wife, "a little goes a long way." I think, that would of been good info to have a few minutes ago.
My wife takes Jacob back to where everyone else is, and I go into the bathroom with a towel to wipe the cake batter off my face and arms. I then put all my stuff including my glasses (didn't think I could wear them) in the new locker and join my wife. The person running the dolphin experience needed me to sign a waiver. Well….I just locked up my glasses and can't read anything on the form. I asked my wife where the darn line to sign was on the paper. She asks where my glasses were. Turns out I could wear them. So back to the locker I went got my glasses, signed the paper and the dolphin experience started a minute later.
The good news is dolphins were great and the kids loved it. That quickly changed my mood (self-inflicted) and we had a great time with the dolphins.
Swimming with Dolphins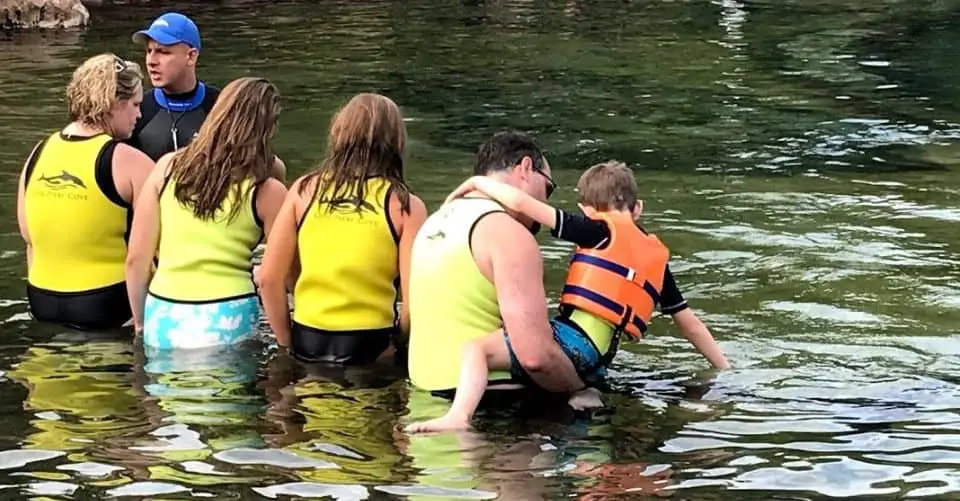 in total there were about 30 people in the dolphin encounter, but we were broken up into 4 groups. There were a total of 9 in our group. We walked in the (cold) water and lined up shoulder to shoulder. They had no problem with me holding Jacob. They talked about holding on to the dolphin for a ride and I told them Jacob wasn't going to do it, but the rest of us would. They were very accommodating and made sure Jacob had plenty of opportunities to touch the dolphin, which he really liked. The dolphin was accommodating too. 🙂
One of the requirements at Discovery Cove is to wear a wet suit (vest or full) and kids Jacob's size had to wear a life jack they provide. The specific life jacket was only required for the dolphin experience. You can use your own US Coast Guard approved life jacket in the other swimming areas. This was no problem for Jacob, but if your child as an issue with clothing textures, I recommend discussing your concerns with Discovery Cove before booking your visit.
Swimming with Sharks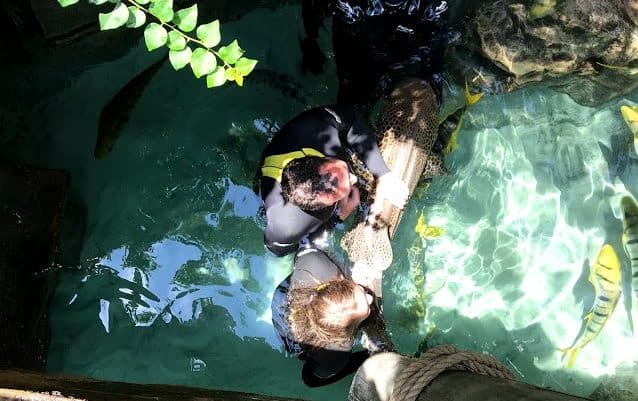 My 14 year old daughter and I did the Shark Experience. She loves them and is interested in marine biology. This was a very structured event. You had to float a certain way, wear Googles, not touch them (except when prompted), and occasionally wait. This would of been way too structured for Jacob and probably a lot of 6 year olds. The directions were for the safety of the sharks and made sense.
If a highly structured activity would be a stressful situation for your child, I'd skip it and stick with the dolphins.
Snorkeling

There is a large pool with (fake) coral and tons of different species of fish for you to explorer. The only thing I heard anyone be told they could not do is walk on the rocks that stick out of the water. There are plenty of underwater rocks (without coral) to stand on to redirect to if needed. You can sort of see the fish and stingrays from above the water in the shallows, but for a good view you really need to wear the goggles and snorkel. Jacob wasn't interested in that, but had a great time playing in the sand and walking in the shallow water.
Everyone else enjoyed snorkeling once they got used to the cold temperatures.
Wind-Away River Fun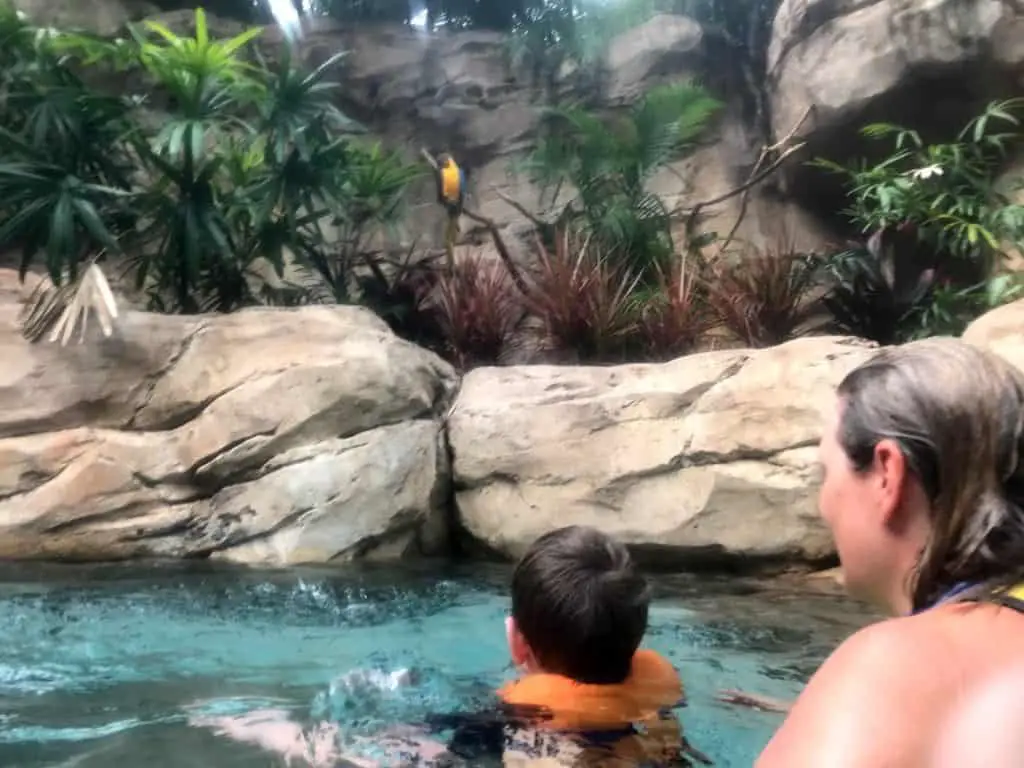 Our favorite place to relax was in the Wind-Away River. For one, it was warmer water. Its kind of like a lazy river, but looks like you are floating down a river. You can wear life vests, hold float sticks, or just swim on your own. Like everywhere else in the park, you need to wear your wetsuit vest. The depth constantly changes throughout from around 4 feet to over 8 feet.
One thing I want to point out is there are two waterfalls you travel through. Its not possible to stay in the water and not go through them. They serve as fences for keeping the birds in their habitat. Jacob was not a fan of having to go through these, but we did it twice. The third time we got out of the water and walked around to a point past the waterfalls.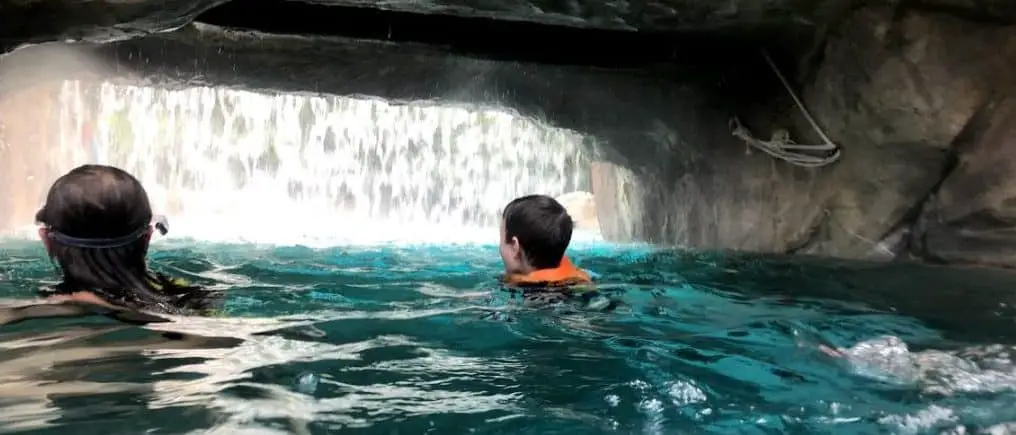 The entrance to Wind-Away River has a large shallow area with a beach. Jacob used this area as a deescalation area. When he was tried of the crowds, he had a great time having some "Jacob time" here with us close by.

Final Thoughts
We had a great time at Discovery Cove, even while waiting out a few brief thunderstorms. There are plenty of places to get away from crowds if you need to and there was something for there for the whole family. If you are looking for a fun family destination that can accommodate kids and adults with special needs, I recommend checking out Discovery Cove.
Thanks for reading and sharing!