I have been using the HP x360 14C for the last few weeks as my everyday device to answer one question. Can the HP x360 Chromebook replace my Windows laptop?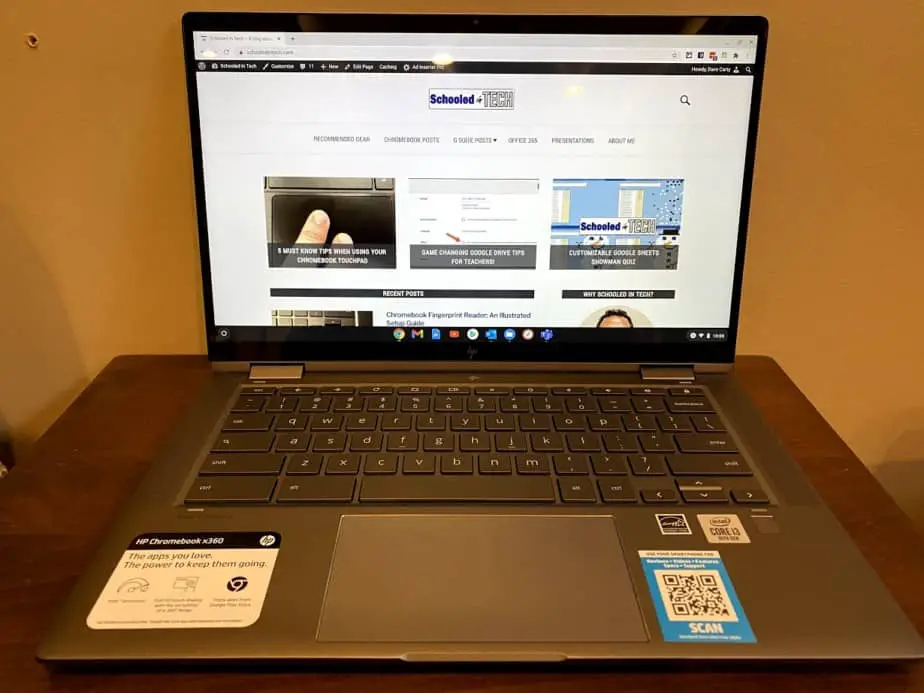 Chromebooks have take off in the last few years. This is especially true in schools. Many schools have moved to a 1:1 model with each student being assigned a Chromebook. Typically these have been Chromebooks with 4GB of RAM and 11″ screens. These are perfect for students and average users.
However, what about the more advanced user? I categorize teachers in this group. Teachers are the definition of a multitask users. Multitasking on a Chromebook can utilize a lot of RAM. In my experience, multitasking can often utilize 100% of the 4GB of RAM in most standard Chromebooks.
I purchased the HP x360 14C mainly for the RAM upgrade. The HP x360 14C has 8GB of RAM. I'll talk about its full specs later, but having 8GB of RAM is where Chromebooks are headed and this is what will make multitasking Windows users take notice.
Chromebooks will likely never run every piece of software that a Windows PC can run, but that's okay. We don't want a PC clone, we want an alternative that works better for most people. The HP x360 14C is the first Chromebook I've used that allows me to do everything I need to do for work and in my personal life and I'm going to show you how. You can check out current prices here on Amazon.
Let's look at the specs of this Chromebook.
HP x360 14C-CA0053DX Specifications
Here's what's included in the 14C-CA0053DX model of the HP x360 Chromebook.
8 GB of memory (RAM)
Intel 10th Generation Core i3 processor
Convertible case design
14″ screen with slim bezel
Full HD 1920 x 1080 screen resolution
64 GB onboard eMMC storage (Hard Drive)
Touch screen
Stylus support
Backlit keyboard
Fingerprint reader
Headphone jack
Cooling fan
Front-facing camera (above screen)
Integrated microphone
Bluetooth Enabled
USB-C Charging
1 USB Type A (typical) port (right side)
2 USB Type C ports (one on each side)
1 Micro SD slot (right side)
AX Wireless card; support for both 5GHz and 2.4GHz
Weighs 3.64 pounds
That is an impressive list. Let's look at why.
HP x360 14-C processor
I talked about how the increase to 8GB of RAM makes a big difference in how much your Chromebook is able to do at the same. The i3 processor in this Chromebook makes a difference in performance as well. The x360 has the Intel i3-10110U processor.
HP x360 has a fingerprint reader
The x360 14C-CA0053DX has a built in fingerprint reader. You can use your fingerprint to unlock your Chromebook from standby. I show you how to set it up in my post titled Chromebook Fingerprint Reader; An Illustrated Setup Guide.
Dual Monitor Support
In order for the HP x360 to be my everyday device, it needs to support dual monitors and it does. In fact, it works really well. I have a large widescreen monitor on my desk which has a USB-C connection. I can plug the Chromebook in and use both the external display and the built-in Chromebook screen.
You can adjust monitor settings to your exact preferences including the screen positions which allows the mouse pointer to move seamlessly between screens. I'm working on a post on setting up dual monitors with detailed instructions.
I haven't noticed an effect on Chromebook performance by using dual monitors. I've had several windows and tabs open plus a Zoom meeting and all worked great. That's something that isn't going to happen on a 4GB Chromebook. Now, 4GB Chromebooks can run Zoom with some preparation which I cover in my Best Practices for Using Zoom on a Chromebook post.
I have also used wireless casting with the HP x360 and Zoom in order to put the Zoom video and audio on my living room TV. It worked great!
Back-lit keyboard
One thing I have really missed in entry level Chromebooks is having a a keyboard that lights up. When using any Chromebook in dim light, having a back lit keyboard is a huge help.
The keyboard stays lit up while you use it and turns off after 30 seconds. The backlight turns back on when you press any key or move your finger across the touchpad.
HP x360 cooling
Because of the added processing power, the passive cooling that is used in less powerful Chromebooks is not adequate. Instead the HP 360 14-C Chromebook has a cool fan. It does not run all of the time. Rather it just kicks in as needed. The fan is very quiet. Unless you are working in a quiet room, you'll likely not notice the fan.
I've been presently surprised that I haven't seen a noticeable difference in battery life due to the fan. Like I said it does not run all of the time.
Convertible mode
The HP-360 14-C does flip to make the Chromebook appear more like a tablet. If you prefer to write on the Chromebook's touchscreen using a stylus, then you may benefit from this capability.
Personally, I prefer to type, so I never flip the screen completely. If I was watching a video and had confined space, I may set the Chromebook up like a tent.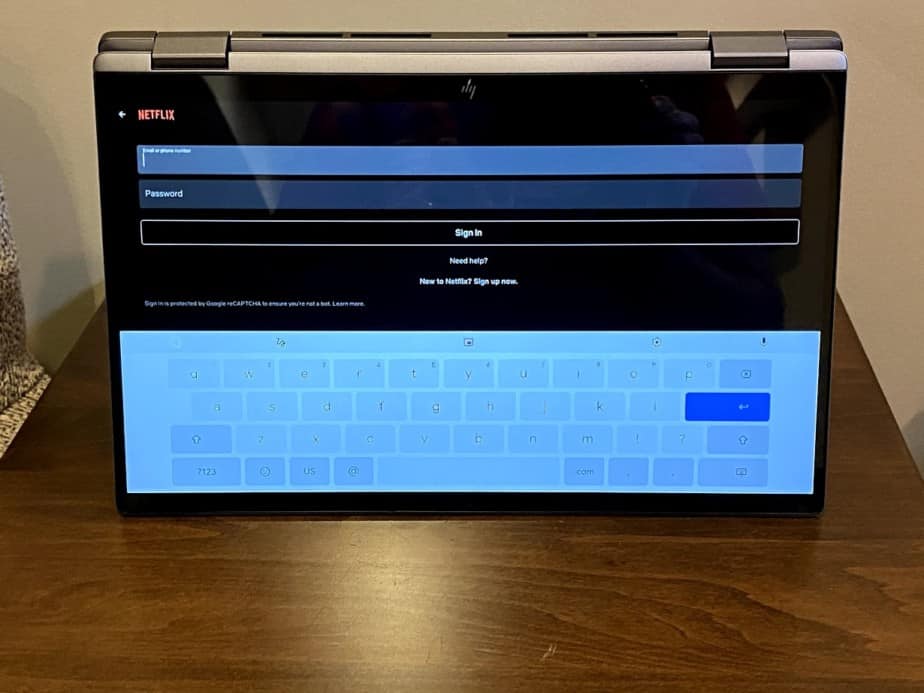 Android app support
Android app support adds even more possibilities to the HP x360 14-C Chromebook. I've installed a few games such as Minecraft and have had no performance issues.
I installed the Microsoft Outlook and Teams Androids apps on the Chromebook and they worked well too. However, in these cases I found I prefer the web version over the Android version on both apps.
I do like running Outlook and Team in separate windows from my other tabs open in Chromebook. Therefore I saved them as shortcuts that run in there own windows. They basically look like apps. I explain how to do this in my post Create Web Page Shortcut to Open as Window in Chrome if you'd like to try it out.
Do I recommend the HP x360 C-14 Chromebook
I believe the x360 is a great Chromebook and I do recommend it. It has plenty of power and memory and I have found it to be very reliable. I have been able to use it as my primary device for both work and personal needs.
When working remotely, I have really enjoyed being able to move from place to place and quickly start working again thanks to how fast the Chrome OS operating system is and the fingerprint reader is a nice bonus.
The battery life on Chromebooks is second to none. Being able to use the Chromebook all day without the need for charging is very convenient. Standby uses very little battery power so the Chromebook is always ready when I need it.
The HP x360 Chromebook is not the cheapest Chromebook on the market. You can check out current prices here on Amazon. Still, it is worth the money. To purchase a comparable Windows laptop that has the same features and performance you would need to spend much more.
You can buy a cheaper Chromebook and may be just as happy depending on who you use it. Just make sure it has at least 4GB of RAM. Here are some options on Amazon.
I hope this review helps you in your search for the right Chromebook for you. Good luck!