For vacation this year, we decided to do something different. Way different from our normal quiet beach trip.
We went to Orlando, FL. It was my wife and I, our three kids (14, 10, 6), my in-laws, and sister-in-law. My in-laws rented a house that we all were very comfortable in.
I have two beautiful daughters and one son. My son Jacob is currently six years old. He has level three autism and is considered non-verbal. Non-verbal does not necessary mean zero speech. You can read more about this in my post about being nonverbal. In short, my son can say words, but does not typically use them to communicate.
This post isn't about trying to explain Autism. It's not about trying to educate others about Autism either.
My primary goal is to help parents of children with special needs to know what to expect when visiting SeaWorld by sharing our experience. I look for posts like this when trying to decide whether or not visiting a particular place will be a fun experience for our whole family or not. So, I'm trying to pay it forward. You can also read my post about our great visit to Discovery Cove.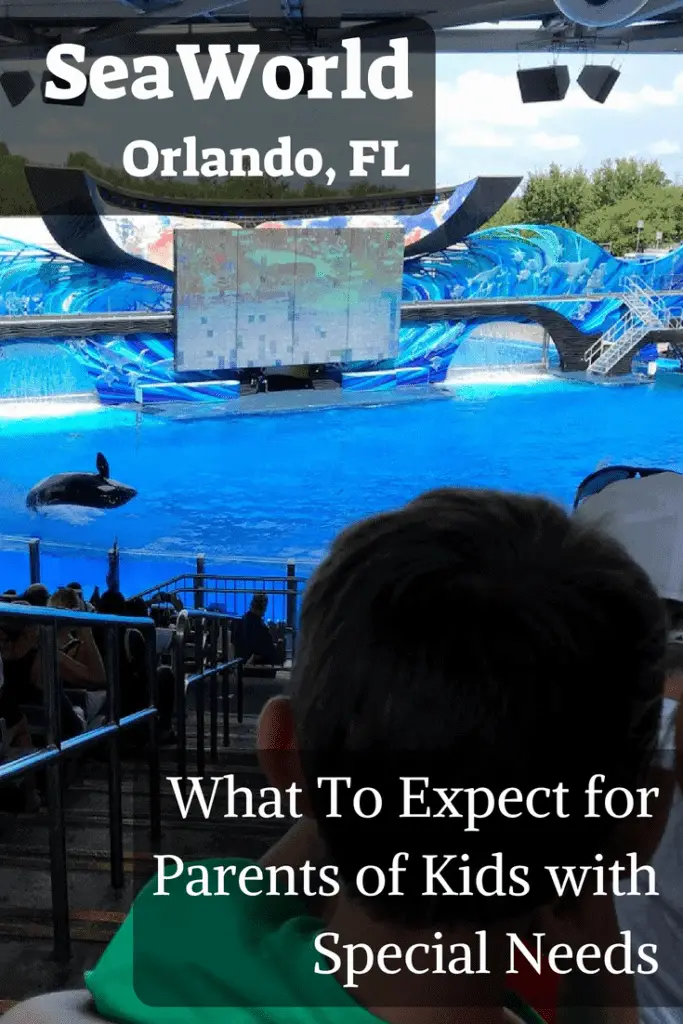 What's the Verdict?
I won't keep you in suspense for the whole post. We all had a great time! SeaWorld has a Ride Accessibility Program (RAP) to help meet the needs of their special needs guests. You can read more about it in their Accessibility Guide.
Here's how our day went and what we did and didn't do. Hope you find it helpful when planning your trip.
Arriving at SeaWorld
We arrived at SeaWorld about 15 minutes after they opened. We were shooting for earlier, but traffic was busy. It worked out great though, because there was not a line to get in the park. I went straight to Guest Services and I introduced them to Jacob. They asked his about his height and how many were in our party. Guest Services gives special needs guests Ride Accessibility Program (RAP) paperwork that you carry with you around the park.
Here's what you need to know:
You can have up to 6 people ride with with the special needs guest. The individual ride operators are allowed to make concessions for more in certain circumstances.
The first page shows the rides the special needs visitor can ride using the paperwork based on their their height. Jacob could ride everything but the roller coasters.
The handicap/special needs entrance is typically the exit area of the ride.
You walk up to the special needs entrance and show them the paperwork. If the current wait time for the normal que is greater than 20 minutes, the ride attendee will write a time on your paperwork that you can come back and get on the ride. If the que time is less than 20 minutes they will go ahead and let you on the ride.
Our Adventure Begins
While Jacob and I were at Guest Services, my wife took my daughters to ride Kraken. It is one of three big roller coasters at SeaWorld. When Jacob and I finished and walked to the meet them, they were just getting off the ride. All three said it was great!
Next, we all went on Journey to Atlantis which is a long flume log/roller coaster type ride. There was no line when we got there. FYI, you WILL get wet. How wet varies. I was the big loser here. 🙂
Also, you see it when you walk up to it, but there is a BIG drop. We all thought it was a lot of fun. One minor issue for us (could be major for others) was the music in the enclosed areas of Atlantis was loud. Jacob just stuck is fingers in his ears. If your child typically wears headphones in loud areas BRING THEM.
From there my daughters and I rode Kraken while my wife and in-laws took Jacob to the penguin exhibit next door. We all finished about the same time and all went back into Antarctica: Empire of the Penguin Ride. The special needs entrance for the penguin ride is the Quick-Que.
PRO TIP: Ride Journey to Atlantis AFTER the Penguin ride! It is freezing in Antarctica especially if you are wet. Now that I type this I realize that this should of been obvious. 🙂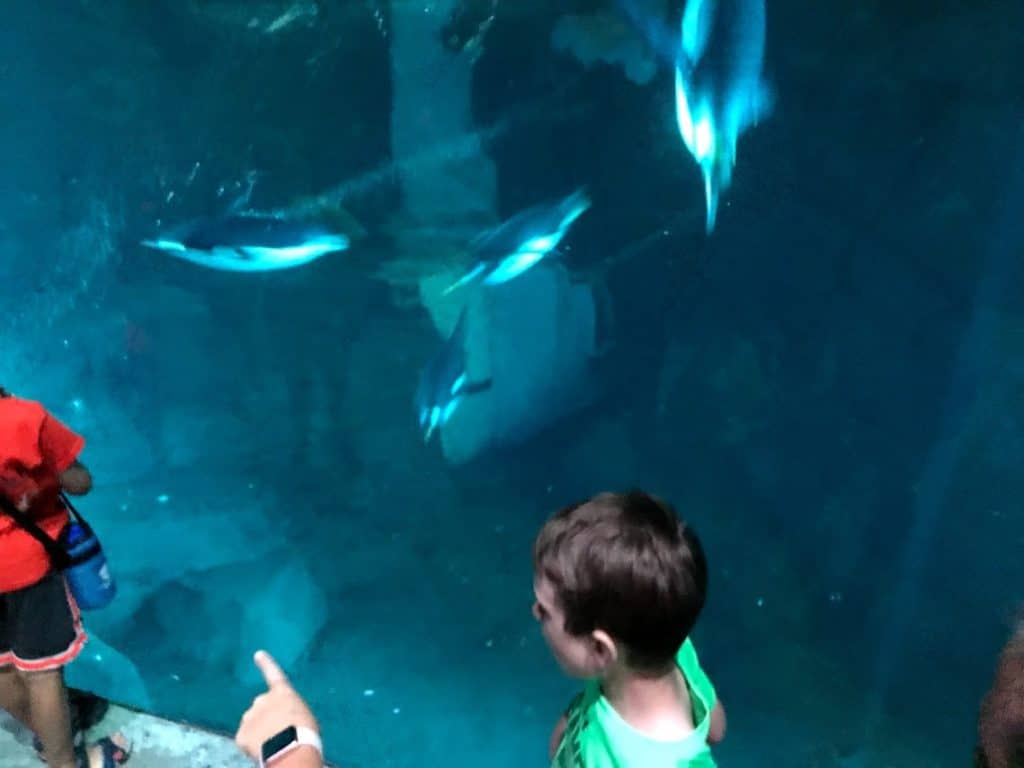 Happy Harbor Kiddie Ride Area
Happy Harbor has rides specifically for smaller kids and adults can ride them too. It is going through a transition right now as more rides and attractions are being added for Sesame Street which will open in 2019.
We could have, but didn't, use the the RAP paperwork in Happy Harbor except once. The lines were not very long and we didn't need to wait too long. Here's some info on the specific rides. Many of the images below are from SeaWorld's Happy Harbor website.
Sea Carousel
The Sea Carousel is a typical merry-go-round, but instead of horses it has a variety of different sea creatures. There are two benches on the carousel. They do check that everyone (including adults) are wearing the safety strap which does take some time. Adults can stand next their child while they ride. It takes longer to get everyone ready to ride than to actually ride, but that's just the nature of a merry-go-round. Kids under 42 inches have to have an adult on the ride with them.
Ocean Commotion
The Ocean Commotion is actually an impressive ride for its small footprint. It moves up and down on a curved track while spinning in a circle. Kids under 42 inches have to have an adult on the ride with them. I fit in it comfortably.
Flying Fiddler
Jacob didn't want to ride this. He was pretty worn out at this point. He's ridden similar rides at other parks. This ride is the kid version of a drop ride.
Jazzy Jellies
The Jazzy Jellies is a ride that spins in a circle while lifting its carts high in the air. Riders can make there individual carts spin too by turning the wheel in the center. Likewise riders can counter the spinning motion by slowly turning their cart in the opposite direction of the spin. Trust me, it will make more sense when you are on the ride
.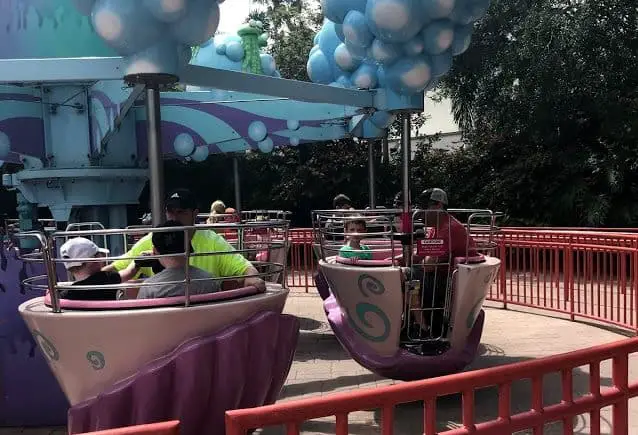 We did use the the RAPS sheet for this ride. The operator asked if we would mind waiting one turn and I said we would. Jacob was worn out by this point and after unloading the current riders the operator decided maybe that wasn't such a good idea. He's the boss 🙂
Kids under 42 inches have to have an adult on the ride with them. There are no restrains to keep you in the cart and like I said it goes high in the air. Jacob could be 6 feet tall and I still would not let him ride this ride alone.
Seven Seas Railway
Jacob LOVES trains!!! Play train, full-size train, amusement part trains, they are his absolute favorite. Sadly, the train track does not currently look like this picture. My guess is it was moved to make room for the Sesame Street construction. The track is currently just a small oval, but it is in the shade now. Jacob still loved it and we rode it several times.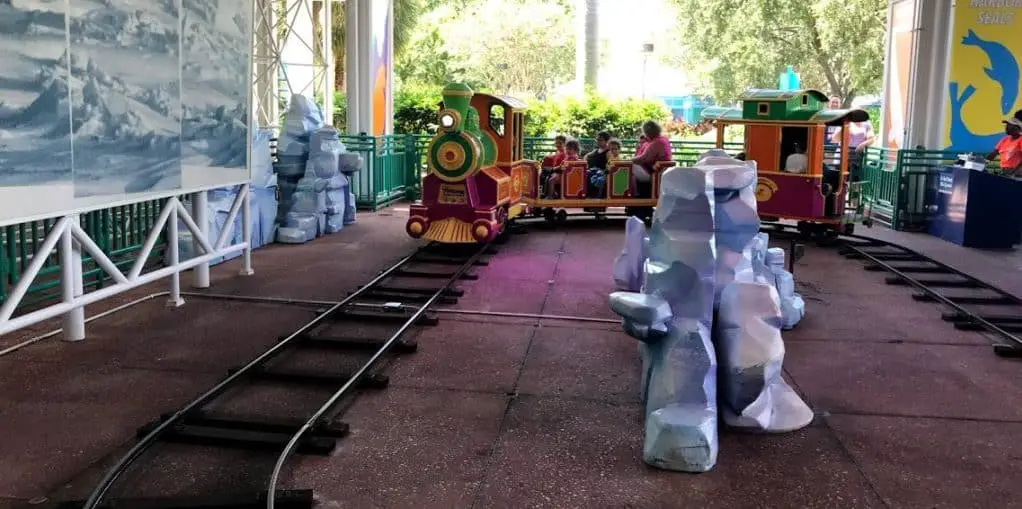 Kids under 36 inches have to have an adult on the ride with them. I'm six feet tall, but I managed to squeeze my legs in. Like I said, Jacob loved it!
What About the Shamu Express?
If you are a SeaWorld veteran you may have noticed that I left out one ride. The Shamu Express roller coaster is being refurbished to fit the Sesame Street theme. This was sad because Jacob does love roller coasters and this was the only one he could of ridden. I'm not sure why it is closed right now. It is in the same line of other rides and the purple track is still put together. There just aren't any coasters on it.
Visiting the Animals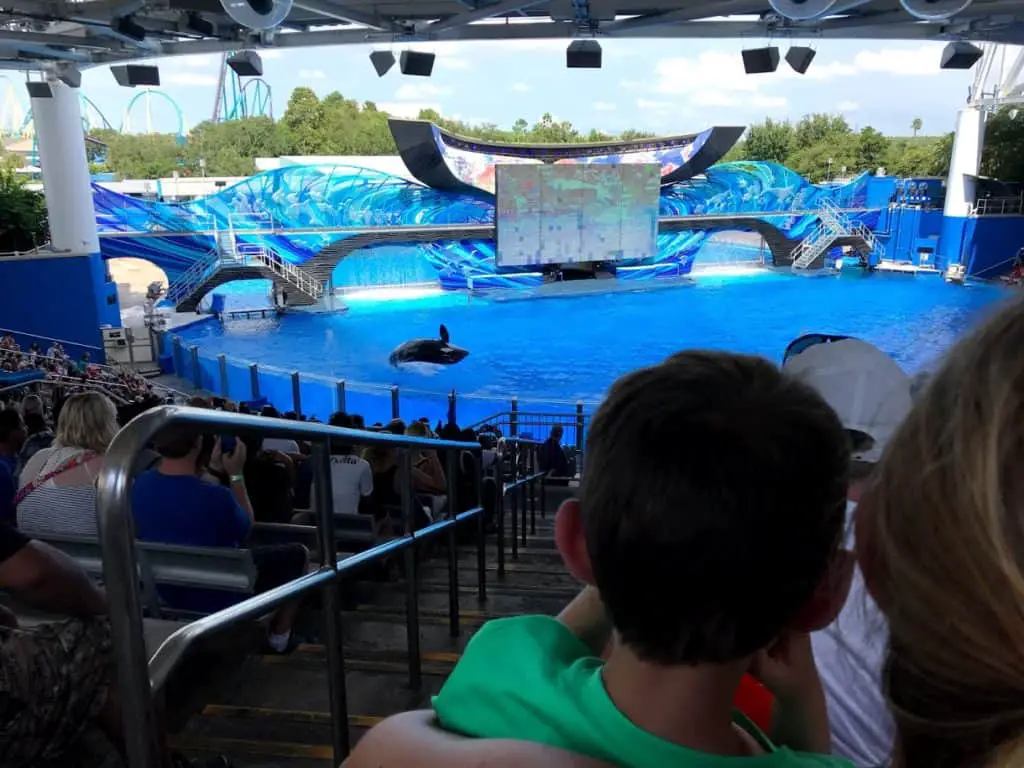 There are plenty of dolphin, whale, walrus, and other shows to see and they are all entertaining. Keep in mind the 'splash zones" are really "get soaked zones" so plan accordingly when choosing your seats. Each show area has some seats in the shade so get there early if you doesn't want to sit in the sunshine or rain in some cases.
The Shark encounter has more than just sharks. It is a great aquarium. You even stand on a conveyor belt while moving through a glass tunnel for part of it. The shark aquarium was the one place Jacob talked saying "look fish" over and over. It was great!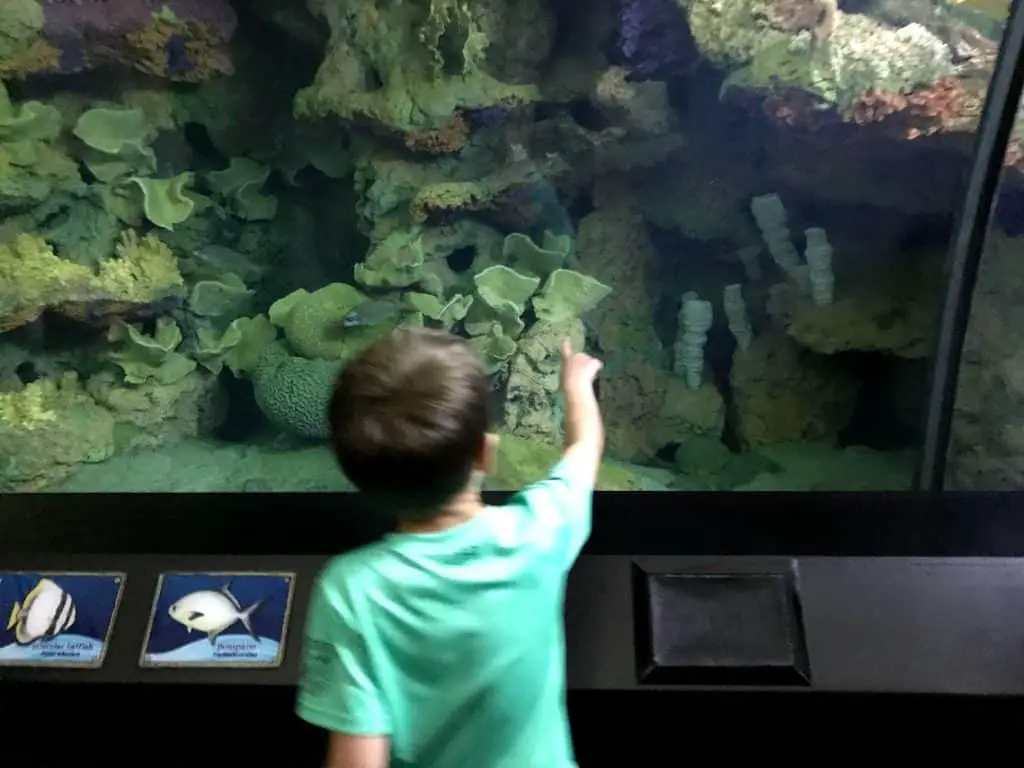 Final Thoughts
We had a great time at SeaWorld, even while dodging a few brief thunderstorms. Their Ride Accessibility Program is a great help for special needs families. Even with tons of people being in the park, it is big enough that we never felt like it was super crowded. I'm sure there a busier days which may feel a bit different.  If you are looking for a fun family destination that can accommodate kids and adults with special needs, I recommend checking out SeaWorld.
Thanks for reading and sharing!