Ah, the touchpad. The best thing to come to laptops since the eraser mouse :). Touchpads have been around for years and have changed overtime. Most notably, some touchpads no longer have dedicated left and right (mouse) buttons. However, you can still click, right-click, drag, and drop with ease using the Chromebook touchpad. You can even customize settings you make the touchpad work "your way."
For many users, including students, the Chromebook is the first device they have used with a touchpad. You can still connect a USB mouse to the Chromebook, but the touchpad's best features is, it's always connected to the Chromebook.
Tip for mouse uses: if you'd like to completely disable your touchpad. I'll show you how towards the end of this post.
Let's take a look at some of the common tasks you will use your touchpad to do and some settings that will allow you to customize how the touchpad operates for you and only you. Plus, these same settings will follow your account from Chromebook to Chromebook.
Right-Click
Change Scrolling Directions
Disable Touchpad Taps
Swap Between Open Tabs
Show all open windows / apps
How To Right Click Using Chromebook Touchpad
Right-clicking is like wiggling your toes, we all take for granted being able to do it until we can't. You CAN right-click using a Chromebook touchpad and it's easy to do.
Instead of pushing down (clicking) with one finger on the touchpad, use two fingers at the same time.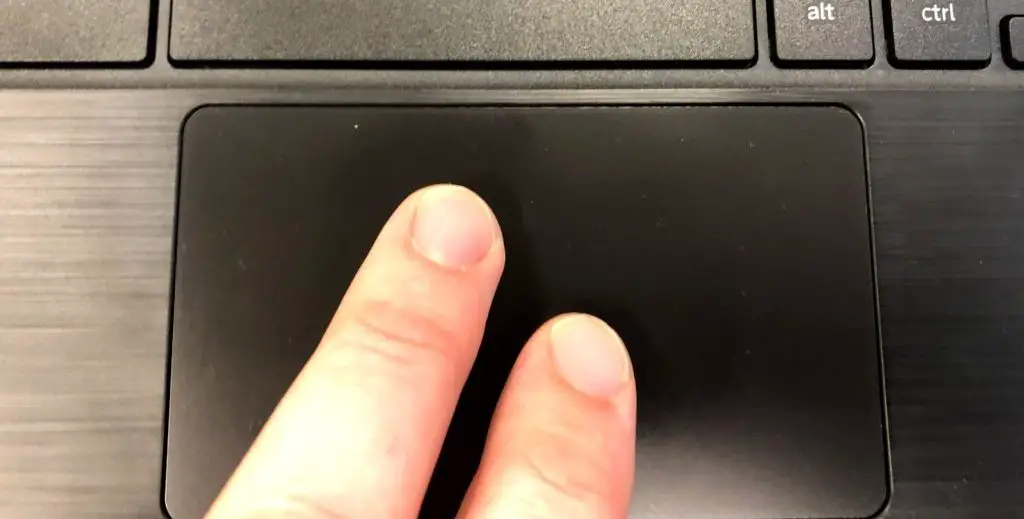 How To Scroll with Touchpad
Most of us remember clicking and dragging on a scrollbar on the right side of website, documents, etc… This way still works, but have you noticed the scroll bar isn't visible on all websites? Don't worry, you can scroll with the touchpad.
Use two fingers, just like you did to right click, but instead of pushing down on the track pad, slide your fingers up and down. Go ahead and try it out on this web page.
Change the Touchpad Scroll Direction
By default, when you slide your fingers down on the touchpad, the page scrolls down. Sliding up scrolls up. Some users prefer the opposite to happen. No problem, scrolling directions can be changed in Chrome OS settings.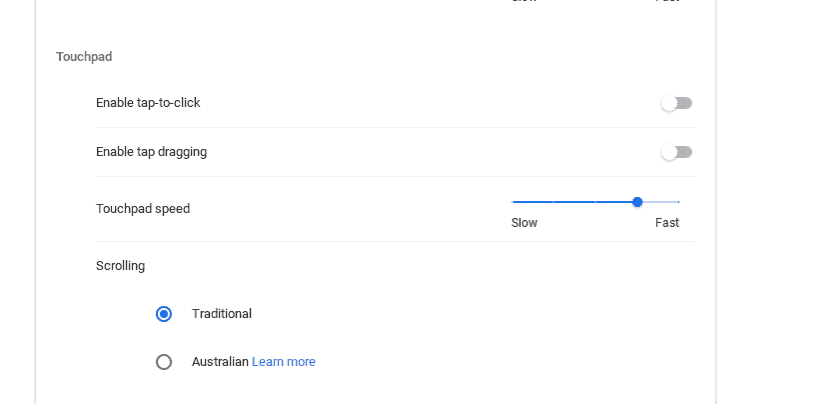 Turn Off Touchpad Tapping / Force Clicking Touchpad Command
I often find when I type that my thumbs graze the touchpad. The Chromebook usually treats this as a "click" which moves my cursor or causes some other issue. One way would be to invest in some thumb covers. Another option is to adjust my Chromebook touchpad settings.
To avoid accidental thumb tabs, I've disabled tap-to-click for my account. Changing this setting only affects my Chromebook / Google account and the setting will also be applied if I use a different Chromebook.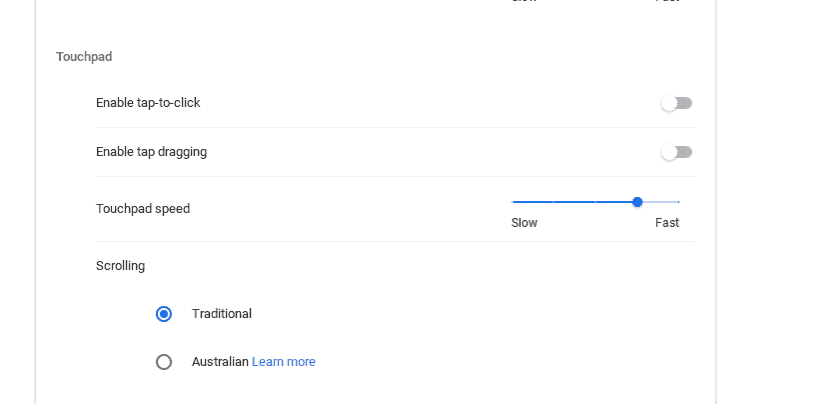 Changing the Touchpad settings has made a huge difference for me. I also love the fact that I don't have to redo the setting on every Chromebook I use. However, I do like the finger puppet option too 🙂
Swap Between Tabs Using A Chromebook Touchpad Command
If you're like me, you probably have several tabs open in your Chrome browser right now. Tabs allow us to have several websites open at the same time. There are a few different ways to swap between them.
You can click on each tab using your (mouse) pointer.
You can swap between them using the keyboard by holding down the Ctrl key and then pressing the Tab key to switch between tabs
You can perform a 3 finger gesture on your Chromebook touchpad.
The keyboard trick might have been a bonus tip for you, but since this post is all about the Chromebook touchpad, let's take a look at the 3 finger gesture.
Show and Swap Between All Open Windows and Apps
Just like you probably have multiple Chrome browser tabs open, you likely have multiple windows and/or apps open on your Chromebook. Windows you have open show up on your Shelf (taskbar) at the bottom of the screen with a line under them. Just like with swapping between tabs in Chrome, there a multiple ways to swap between windows.
Click on each window/app on your Shelf (taskbar)
Use the keyboard by holding down the Alt key and repeatedly pressing the Tab key
Perform a 3 finger gesture on your Chromebook touchpad.
To show all you open windows on your Chromebook using a touchpad gesture, you again will place 3 fingers on the touchpad. This time, slide your fingers down.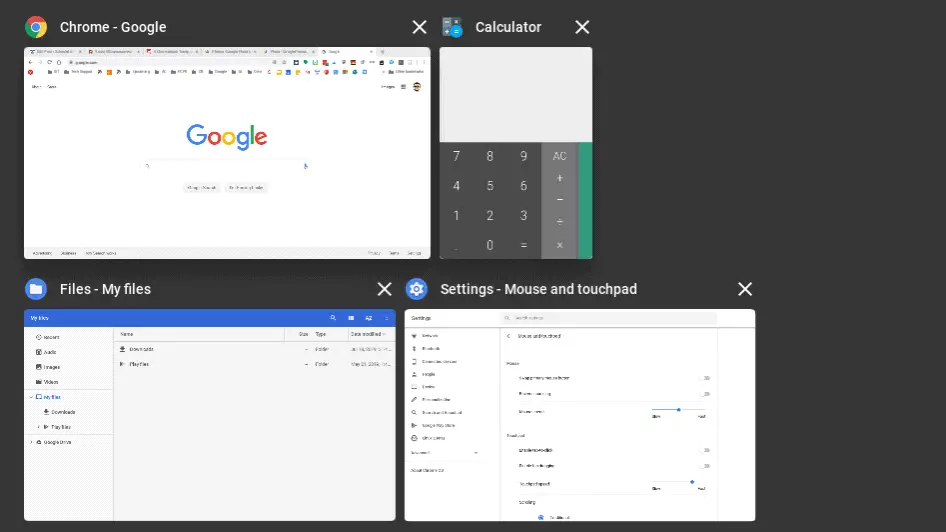 Enable or Disable Touchpad Commands
Some users do not like using the touchpad. Earlier I said you can connect a wired or wireless mouse to a Chromebook. Even with a mouse connected, your touchpad will still work which may cause a problem for some. One option is to turn of tap to click which I explained earlier. However, what if you want to turn off the touchpad completely?
Well, its possible, but there are a few steps to follow. I just happen to have those steps listed below.
On your Chromebook, open your Chrome browser
Go to chrome://flags/#ash-debug-shortcuts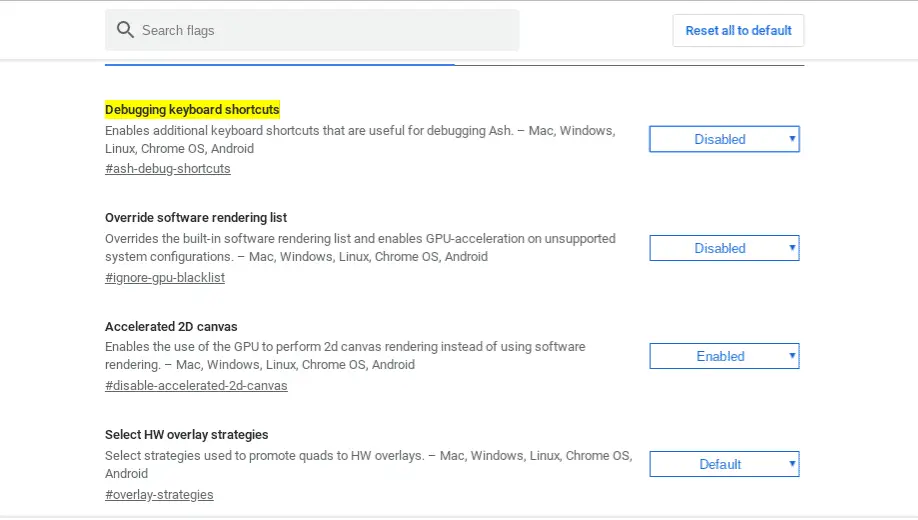 Change Debugging keyboard shortcuts from Disabled to Enabled
You will be prompted to restart. Go ahead and reboot.
Once you are logged back on the the Chromebook Press the Search key + Shift + P
Now your touchpad should be completely disabled. However, your connected mouse should still work. To enable the Touchpad, press the same key combination again.
I hope you found these tips helpful. It might make a big difference for some of your teachers and students.