Powerwashing has its advantages, but if you are pushing out your school WiFi settings, the Chromebook will forget how to connect to your network. This would cause downtime until either:
The Chromebook could be hardwired to the network using a USB NIC like this one so it could download the WiFi settings

The Chromebook could be connected to another WiFI network. Once it had Internet access, it would automatically download the WiFI settings you are pushing out from the Google Admin Console.

Someone could reenter the wireless encryption key manually.
It is now possible to disable the ability for students to Powerwash their school Chromebook.
Steps to Disable Chromebook Powerwashing
Open the Google Admin Console
From the Main Menu, click Devices > Chrome > Settings > Devices
Select the Organizational Unit your Chromebooks are located.

In my example, I'm disabling Powerwashing for the Students OU

Change Powerwash to "Do not allow powerwash to be triggered"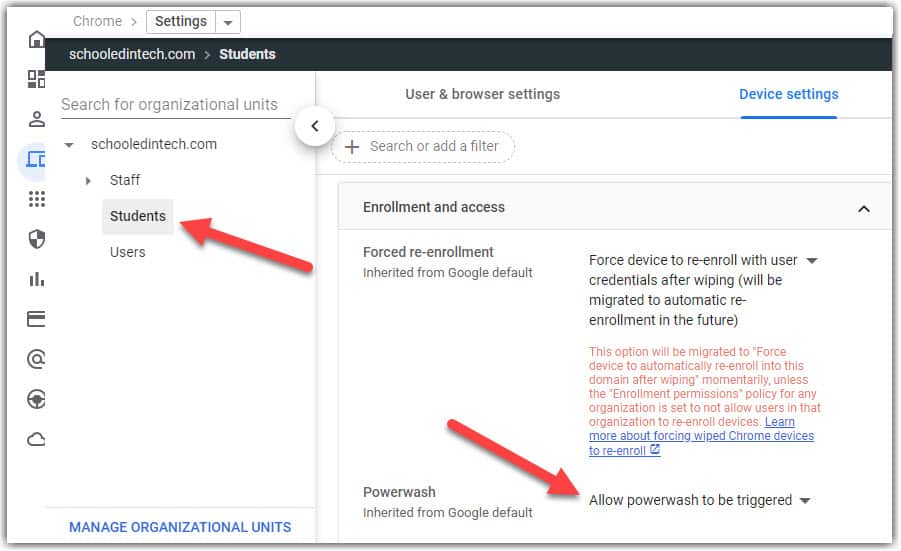 Click Save at the top of the screen.
---
Chromebooks in the selected OU will no longer be able to initiate a Powerwash from the Chromebook. You can still trigger a Powerwash from the Google Admin Console. Learn how in my Powerwash or Factory Reset Chromebooks Using Google Admin Console article.