The purpose of this post is not to talk you into buying a Chromebook. I'm going to make the assumption that you've already decided you want one and are trying to figure out what model to buy.
If you search Google you will get no shortage of suggestions. I've looked at a lot of those sites myself and there are plenty of Chromebooks to choose from. However, I have a few issues with some of their suggestions.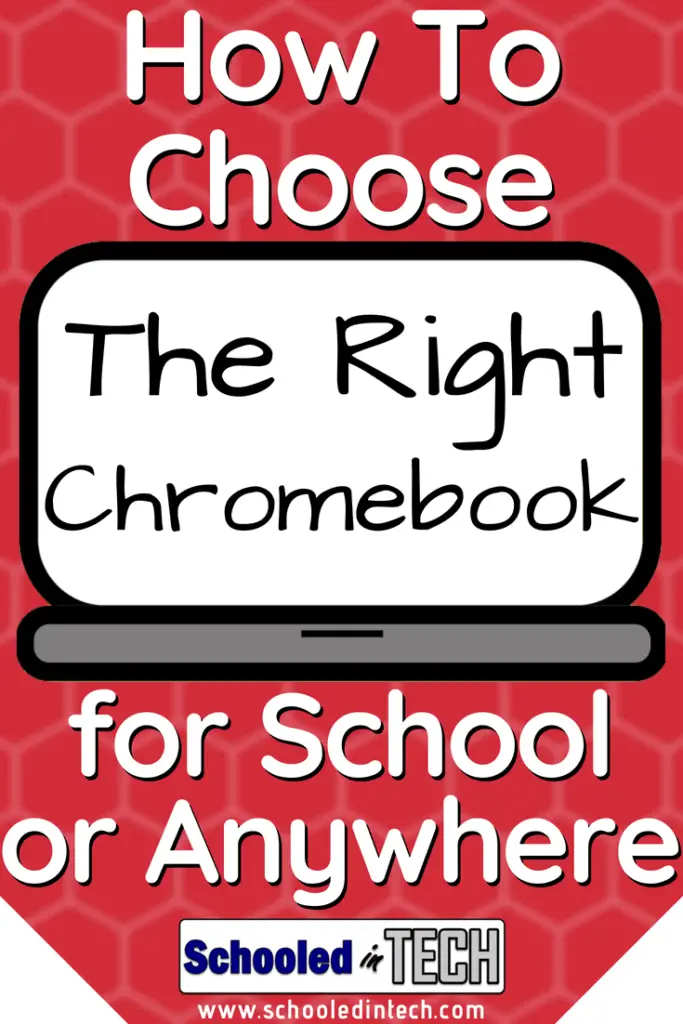 Let's say you were in the market for a new car and asked me for a suggestion. If I told you that a Ferrari is really nice, that would be true. Well, I assume it's nice. I've seen them on the road, but never been inside. Anyway, the statement may be true, but is it practical? Um, no. This is true for home and school use.

Its the same way with Chromebooks. For example, many of them will talk about the performance of the Pixelbook. Now it sounds like a great Chromebook. Its specs are amazing, but so is its price tag of $899+. Now if price is of no concern, stop reading, get in your Ferrari and go buy a Pixelbook. For the rest of you, let's move on.
How Do I Choose A Chromebook?
Before we can answer this, we need to answer a few other questions.
Why do you want to buy a Chromebook?
Price

Ease of use

Startup time

Everything you use is web-based

Lack of overhead (installing anti-virus and other software, Windows updates, installing drivers)

Less "problems" than a PC.
If your reasons include a combination of the list above then a Chromebook may be the device for you.
However, if you are someone who does tons of video editing or needs to run software like Adobe Photoshop, then a Chromebook isn't going to work out for you.
Other Questions To Consider
Is the Chromebook mainly for you as an adult? A 3rd grader? A High School Junior?

Where will the Chromebook be used? Will it travel to school?

Do you want a touchscreen?

How big of a screen do you want?

Do you want it to fold over like a tablet or have a traditional clam shell case?

Do you need a lot of local storage?
What Did I Buy?
I can't answer all the questions above for you. The best I can do it tell you what I have purchased and what I use.
Before I do that, I do have one non-nonnegotiable to share. Do not buy a Chromebook with less than 4GB of RAM/memory. 
There are still a lot of 2GB Chromebooks being sold. The same models may come in a 2GB and 4GB or higher option. The 2GB Chromebooks are going to run too slow in my opinion, especially if you open multiple tabs in Chrome. You can't just go by price. I've seen 2GB versions that were more expensive than similar 4GB versions.
This link will show you only Chromebooks with 4GB of RAM.
My Daughter's Chromebook
My 10 year old daughter has a Chromebook. She uses it at home and takes it to school. It has 4GB or RAM and it has an 11″ non-touchscreen and clam shell style case. I bought it on sale for about $145. I chose this one to start because of the price.
She travels with it so it is going to get banged around. I don't want too much money invested in it. I didn't, and still don't, see a huge advantage to having a touchscreen. If the screen breaks, I can replace it myself (not hard to do) for about $40. A broken touchscreen is at least double the cost.
Her Chromebook has 4GB of RAM and like most Chromebooks, has great battery life. She's had it for over a year now, it's been customized with stickers and is still working great with its original parts. 
My Chromebook
Now, I'm not going to pretend I use only a Chromebook everyday. For my job I have to use some software that I can't run on a Chromebook. However, that list of software is shrinking and I do often use Remote Desktop to control a Windows PC.
My number one reason for going to the Chromebook over my Windows laptop is battery life. The Chromebook typically has at least a few hours of battery life left when I turn it on even after days of being in standby. On top of that, the Chrome OS is just simple.
Can it do everything my laptop can? No, but most of the time I don't need it to. I can even use my USB console cable to configure switches with it. Probably not a selling point for most, but my Logitech wireless mouse works too!
I use both an 11″ and 14″ Chromebook. I find myself using the 14″ more just for the screen size. Both are clam shells and have 4GB of RAM.
They both work fast and cost between $175 and $250. You will not get the same performance out of a comparably price Windows laptop. You can find Windows laptops for that price, but trust me you don't want them.
Google's Auto Update Policy
Also, look for the Chromebook on Google's Auto Update Policy site. It shows when the the end date for auto updates will occur for each model.
That's another great feature with Chromebooks, they are always updating. So if your Chromebook is running Chrome OS 65 when you buy it and a year from now Chrome OS 70 comes out. You get it for free. As in no charge and your Chromebook will download it (and all other updates) automatically.
Really, unless there is a visual change, you won't even notice your Chromebook updated.
Chromebook Auto Update Expiration (AUE)
I wouldn't buy a Chromebook that has an end date of less than three years. That is, unless, its just amazing deal. Keep in mind that your Chromebook isn't going to stop working on that date. It is just when Google isn't promising it will update anymore.
I hope you found this information useful and are now ready to start shopping. Chromebooks can be found most places you have seen Windows laptops sold and of course there are a ton of places online like Amazon. 
Thanks for reading and sharing!