Two years ago, I wanted to add cameras inside and outside of my house. I decided to give the Wyze Cam wireless cameras a try and have not been disappointed. I had wired cameras on a previous home. Though I was skeptical about how well wireless cameras would work, the low price of the Wyze cameras made me try them out and I'm glad I did.

Originally I had 3 Wyze v2 cameras mounted outside, but out of the weather, under covered porches. I never had any issue with them, but I replaced them a few months ago with v3 cameras which are waterproof. I put the v2 cameras inside to increase my coverage area.
Currently my Wyze setup consists of:
I want to point out that I purchased all of these Wyze cameras myself. Wyze did not give them to me. However, I am a Wyze affiliate. This means some links below may earn me a small commission, but will have no impact on your cost for any device. Here's some of the reasons I continue to use Wyze products.
Wyze Cam Super Simple Setup
Wyze has one of the easiest onboarding processes for cameras that I've even used. First, you need to download the Wyze Cam app. It's available for iOS and Android. Everything is setup using the app. I won't go through the whole setup since the Wyze website and the included instructions cover it, but basically you enter your WiFi info when adding a device and then a QR code is displayed on your phone which you show to the camera.
Once the camera scans the QR code, it programs itself with the WiFi info and reboots. You are then ready to use the camera. Again, one of the simplest setups of any smart device I've used.
Wyze Cam v2 vs v3
The reason I swapped out my outdoor Wyze Cam v2 cameras for v3 was the improvement of night vision. Since I use these for security purposes, having a clear image at night is extremely important. The image below shows a night time screenshot taken from a Wyze Cam v2 and v3. There is a single porch light on to the right of the camera image. As you can see the image quality of the v3 camera is much better.

Besides the night time image quality here are some other key differences between the Wyze Cam version 2 and version 3.
| | | |
| --- | --- | --- |
| | Wyze Cam v2 | Wyze Cam v3 |
| Viewing Angle | 110 Degrees | 130 Degrees |
| Resolution | 1080p HD at 15 frames per second | 1080p HD at 20 frames per second |
| Weatherproof | No (though I have used mine outside under porch covers) | IP65 weatherproof |
| Night Vision | Black and White using 4 IR lights | Starlight sensor which allows for color images in low light |
| Size | 2.2 x 1.9 x 1.9 inches | 2.2 x 2.0 x 2.0 inches |
Both versions use 2.4GHz WiFi only. Really this is a good thing. Though 5GHz has the potential to be faster depending on configuration, it does not travel through walls nearly as well as 2.4GHz.
Wyze Cam Recording Options
There are a few different ways to record videos using a Wyze Cam.
Record Events – Wyze cameras can be setup to record when they detect movement or sound. During an event the camera records for 12 seconds and uploads the video to the Wyze cloud storage and is stored for two weeks. You can view events directly from the Wyze app and download the videos. There is no additional cost for this option.

Record to SD Card – each Wyze Cam has a micro SD slot. You can purchase compatible micro SD cards like this one from Amazon. Cameras with Micro SD cards can be programmed to record 24/7. Once the card runs out of space, the camera will continue to record by overwriting the oldest video recordings.

I use an SD card on my hallway camera in conjunction with having the camera record events. This way I can quickly find videos with motion detection and then see all of the video, not just 12 seconds.

Record using Cam Plus Subscription – Cam Plus is an add-on service that makes several significant improvements to your Event recordings. This includes increased cloud recording time and AI detection. AI allows the cameras to not just record motion, but also be able to tell the difference between a car, person, and package delivery. You can view the full list of Cam Plus features at this link and the cost is very reasonable. You can put the service on just one camera or all of your cameras.

I use Cam Plus on my outdoor cameras for the add functionally and to make sure I don't lose the full footage if someone was to steal a camera.
Wyze Cam Pan v2
My basement is shaped like a "T". It would take 3 Wyze Cams to cover the whole area. So instead I purchased a Wyze Cam Pan v2 and mounted it on the wall using this mount from Amazon. The Wyze Cam Pan can be turned left, right, up, or down (only black area moves up/down) using the Wyze app. It can be programmed to automatically move in a pattern for security purposes.
You can also pinch to zoom on the Wyze app which makes the it a great camera for covering a large area. It can even follow a moving target such as a person or dog.
Wyze App Functionality
All of Wyze's smart products use the same Wyze app. You can view cameras individually or put them in a group so that you can view multiple cameras at the same time. The camera feeds can be viewed in portrait or landscape mode depending on how you turn your phone.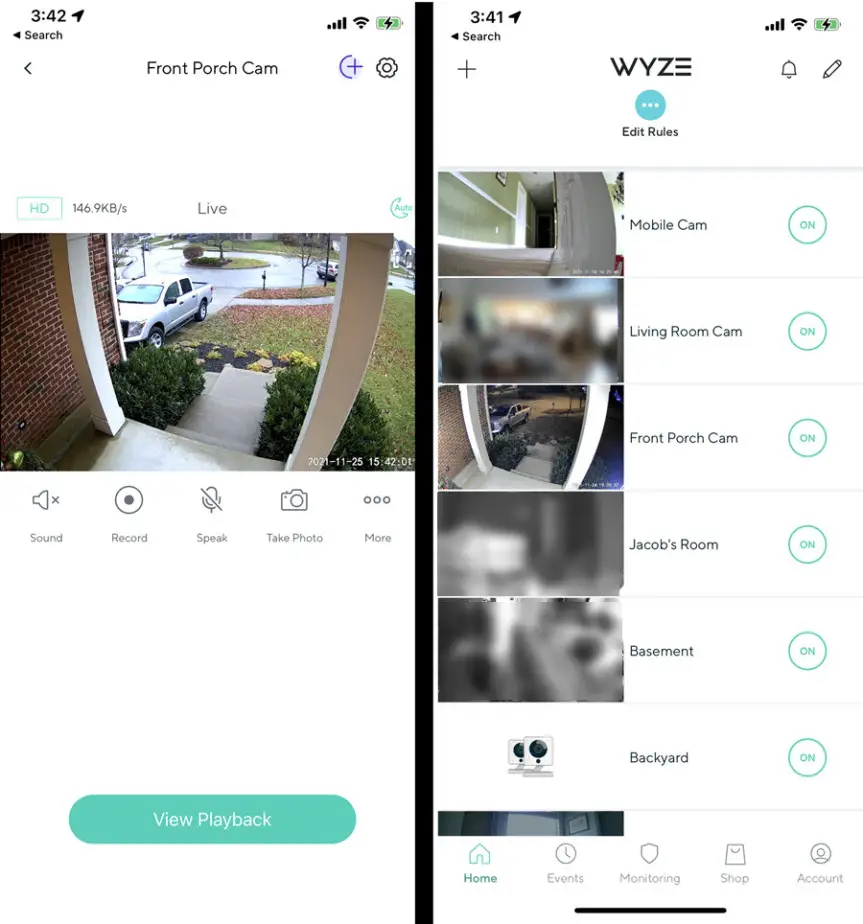 You can view cameras individually or group them. You can view 3 cameras at a time in portrait mode and 4 cameras in landscape mode. You can also share specific cameras with family and friends.
The app allows you to setup rules for everything from enabling notifications for particular times of day to taking a image at a particular time of day.
You can view recorded Events from within the app by viewing all events or using the filter to show just the cameras you want to see.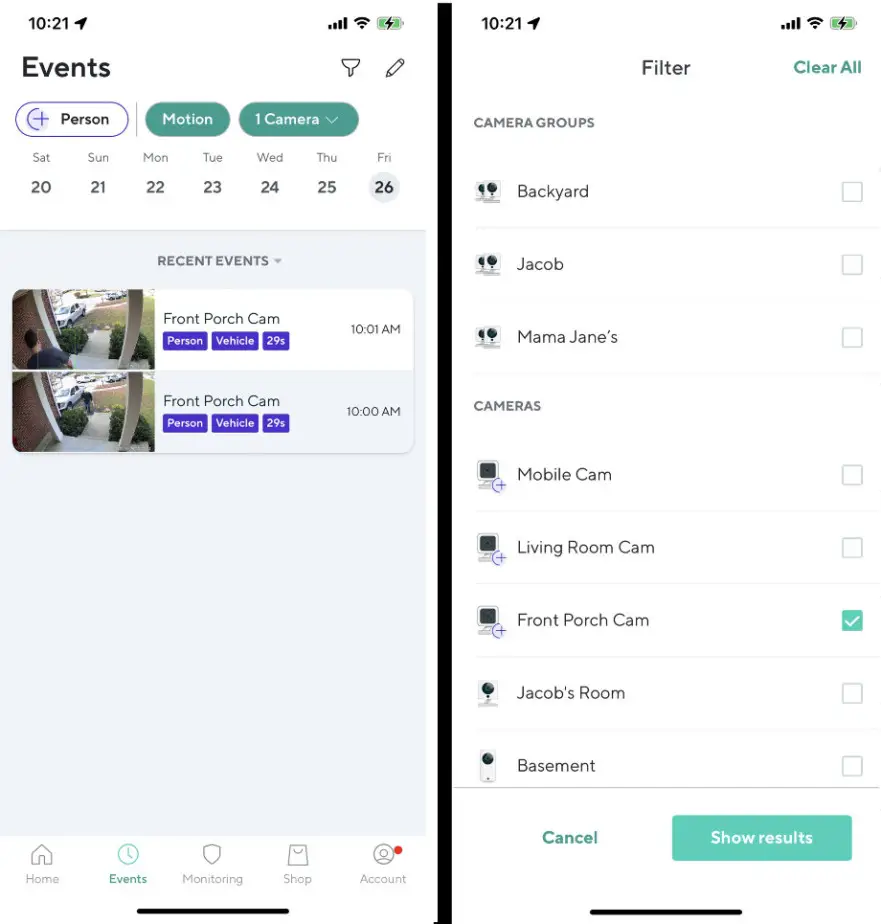 The event recordings and notifications are great for knowing when packages have arrived.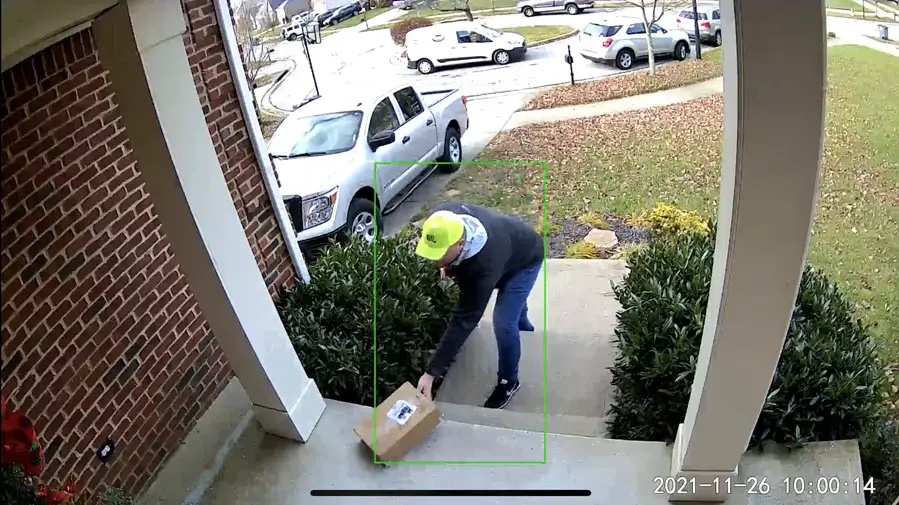 I have been very happy will all of my Wyze Cams and will continue to purchase them when I need to add more.