By default, a Chromebook will remember multiple accounts or user profiles. These profiles are shown on the Chromebook's sign-on screen.
There are times when a new student or group of students will be assigned the Chromebook.  You may get an error saying your Chromebook profile could not be opened correctly and it needs to be removed.
Sometimes you just need to remove just one user account. Other times you need to remove the accounts from 500 or more Chromebooks.
 Here are ways to delete a profile account from a Chromebook.
---
Reset a Chromebook
Resetting a Chromebook, also known as Powerwashing, can often help clear up any "weirdness" a Chromebook may be having. The process also removes all of the profile accounts. If you have just a few user profiles cached, this would not be faster than the manual removal way. However, if you have 12+ user profiles, it may be faster.
If you have a lot of user profiles on your Chromebooks, you may not want to cache user profiles going forward. I'll explain how to configure this later in this article.
The process of resetting a Chromebook returns it to its out-of-the-box state with two exceptions:
It will still be running its current Chrome OS version
If your Google Admin has enabled Forced Re-enrollment (and they should), the Chromebook will re-enroll in your domain the next time a domain user logs on. This is both a convenience and theft deterrent.
I explain how to reset a Chromebook in my Powerwash a Chromebook article.
---
Manually remove a user profile from a Chromebook
Manually removing user profiles on a Chromebook is easy to do, but can be time-consuming if it has to be done on a lot of Chromebooks. One quick option is to have students remove them from the Chromebook they are using right before they turn it in. This would be one of the easiest ways in a 1:1 environment.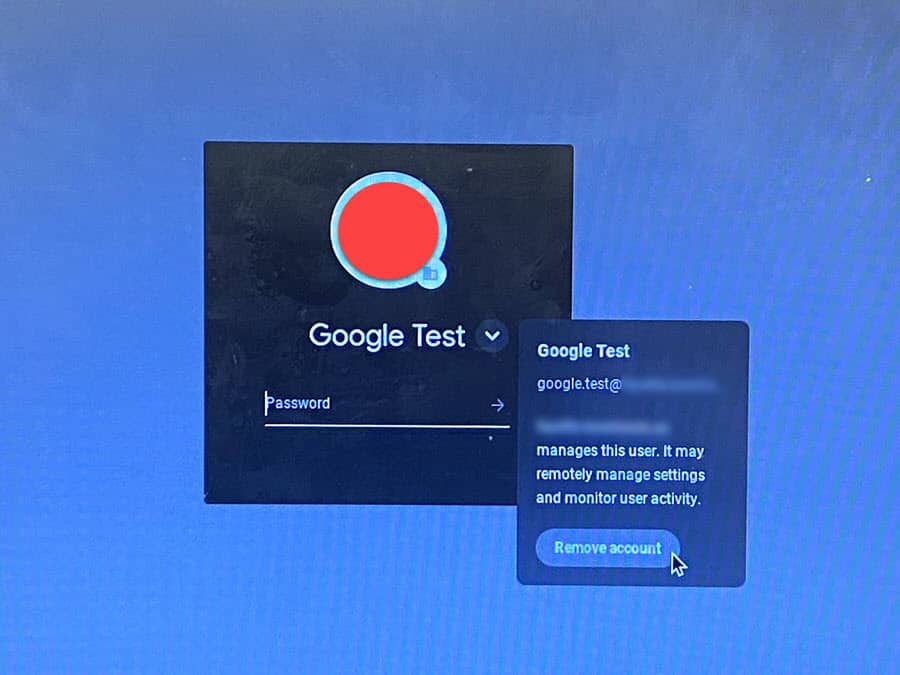 To remove a profile:
Logout of the Chromebook
Click the on the profile you want to remove
Click the down arrow next to the profile name
Click Remove account
Click Remove account again
Repeat these steps until all of the user profiles are removed. If the Chromebooks are not managed in the Google Admin Console, there will be one profile that cannot be removed. It is considered the owner. This is the first account to login into the Chromebook. To remove the owner you must Powerwash the Chromebook.
If your school system has your Chromebooks enrolled in their Google domain (manages them) there will not be an owner account.
Users will not lose any files saved in their Google Drive by removing their profile. If your Google Admin is not forcing users to save to Google Drive, they may have files saved in their Chromebook's Downloads folder. These need to move if the user wants to keep them, before removing the profile.
You never know when a Chromebook may be misplaced or broken. Also, another student could delete profiles. Therefore, I recommend teaching students to always save in Google Drive and never rely on the Chromebook's local storage.
---
Remove account profiles from a Chromebook using the Google Admin Console
Google now allows Google admins to remove account profiles from Chromebooks remotely using the Google Admin Console. This is extremely helpful when you are trying to remove profiles from Chromebooks you don't have in front of you.
Removing the profiles does not affect any device settings. For example, if you have pushed out settings for connecting to your WiFi, the Chromebook will retain those settings.
Follow these setups to remove an account from a Chromebook remotely.
Log in to the Google Admin Console
Click on Devices

Click on Chrome Devices

Click Search or add a filter
Search for the serial number of the Chromebook you want to remove the account profile from.

Click on the serial number of the device. It should be listed in blue.
If you do not see your device, try changing the search status from provisioned to all. You may be dealing with a disabled Chromebook.
Click the Reset button on the left side of the screen
If you do not have the reset button option, it means the Chromebook has not been updated to a Chrome OS version that supports remotely removing profiles.

Select the Clear User Profiles option
Click the box next to I understand this will remove data from the device and cannot be undone.
Click Reset

Google will then try to remove the profiles from the Chromebook. If the user is logged on to the Chromebook at the time, they will be logged off. If the Chromebook is not online, the profiles will be removed the next time
After the profiles are removed, any allowed user can log on. The Chromebook will set up the user's profile like it did the first time they signed into it.
---
Configure Chromebooks to not save user profile information
In some cases, schools do not assign Chromebooks to students or students do not use the same Chromebooks each time. In these cases, you can program your managed Chromebooks to forget the logged-on profile when the user logs off. This is done using the Google Admin Console.
This has to be done by someone with Google Admin Console rights to modify Device Settings for the OU in which the Chromebooks are located.
Follow these setups to remove an account from a Chromebook remotely.
Log in to the Google Admin Console
Click on Devices

Click on Chrome Devices

Change the drop-down shown below to Settings

Click on the Device Settings tab

Scroll down the section
Find the User data section
Change the option to Erase all local user data
Click Save
Now every time a user logs out of a Chromebook, their profile will be forgotten. All of the apps, extensions, and settings applied to the user are installed each time they log in.
---
Now let's take a look at some Chromebook troubleshooting tips.